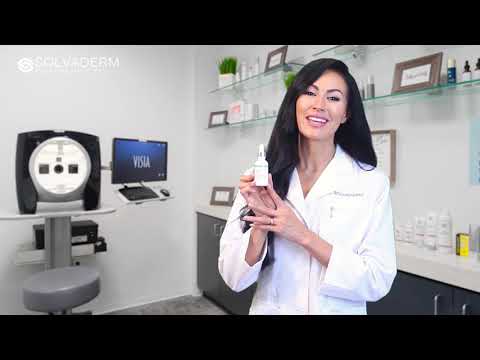 Revolutionizing
Cosmetic Dermatology
Discover Solvaderm's Professional Strength Products For Healthier And More Beautiful Skin.
About Plasmatox
Plasmatox is an innovative anti-aging treatment that infuses skin with life's most precious substance, oxygen. The polluted, toxic environment that many of us live in can have a detrimental effect on vital levels of oxygen in our skin; over time, this depletion leads to skin that is dull, drawn and more prone to developing common signs of aging such as fine lines, deep wrinkles and discoloration. With an intensely nourishing formula that is light in texture and fast-absorbing, Plasmatox protects vulnerable, aging skin from damage with its powerful key active ingredient Perfluorodecalin. This revolutionary skincare substance transports essential oxygen molecules in a rich, conditioning plasma, penetrating deep below the epidermis where they're quickly diffused, reaching areas most susceptible to damage. With regular use, Plasmatox strengthens the connective tissue and fortifies skin cells, protecting them against harmful environmental factors such as UV rays and oxidative stress, while increasing their resistance to further deterioration. In doing so, the complexion becomes visibly smoother, firmer and radiantly healthy.
With Every Order You'll Receive:
1 bottle of Plasmatox
Our exclusive 60-day satisfaction guarantee
Free shipping for U.S. domestic orders
A low retail price of $74.99
Usage
After cleansing and toning, apply Plasmatox to the skin using the fingertips. Gently massage the serum into the face, neck and chest and, for complete saturation, repeat the application after allowing to fully dry. Plasmatox is best used twice a day, as part of the morning and evening skincare routine, and works optimally in conjunction with Dermpura Skin Balancing Cleanser and Maxatone Clarifying Biohydrating Toner.
Plasmatox Oxygen Plasma Serum should be used on skin that appears lined, dull and discolored including the face, neck and chest areas.
Ingredients
Perfluorodecalin
The key ingredient in Plasmatox is Perfluorodecalin, a high-density fluorocarbon, known for its effective transportation of large amounts of oxygen molecules. While it has a history of use for medical and scientific purposes, with such a valuable quality it's no surprise that this fast-dissolving compound has become a highly sought-after skincare ingredient. Perfluorodecalin floods the skin with oxygen-rich plasma, literally breathing new life into mature, damaged cells for amazing anti-aging results. By delivering these vital molecules of oxygen deep below the skin surface where they're quickly diffused and able to reach even the most distant capillaries, Perfluorodecalin promotes cell propagation and optimizes all essential skin functions. Not only is the skin fully aerated for immediate health benefits, it is protected in the long-term from the damaging, prematurely aging effects of daily environmental stressors. Used regularly, the Perfluorodecalin found in the exclusive Plasmatox formula supports the production of vital proteins such as collagen, keratin and elastin, resulting in stronger connective tissues, improved elasticity and a drastic reduction in sagging, wrinkles, dullness and fatigue. With an ability to boost the circulation and the overall penetration of all key components, Perfluorodecalin is a must-have ingredient for youthful skin that glows with good health.
Benefits
Plasmatox has a drastic effect on multiple signs of aging, largely due to the inclusion of Perfluorodecalin, an ingredient with a unique ability to transport large amounts of oxygen molecules to areas where they're needed the most. Some of the powerful benefits of Plasmatox include:
Reducing the build-up of carbon dioxide in the skin and accelerating the detoxification process for a healthier, more clarified complexion
Dissolving quickly below the skin surface, optimizing the diffusion of oxygen molecules so they can reach even the most distant capillaries and enhance circulation in these areas
Keeping the skin fully aerated for an improvement in cell propagation and the natural healing process
Supporting the skin's anti-inflammatory response and strengthening the epidermal barrier, protecting against bacteria, loss of moisture and damaging UV radiation
Stimulating the production of collagen, keratin and elastin, skin-strengthening proteins that encourage firmness, elasticity and a smoother texture
Promoting the optimal absorption of all key ingredients and boosting their effectiveness for accelerated anti-aging results
Sinking into the skin easily, with a non-greasy formula that won't clog pores or leave an oily surface residue
The FDA has not evaluated these statements and this product is not intended to cure or prevent any specific skin condition. Remember to read our labels and ingredient lists carefully and always follow the directions for application. If you have a history of skin allergies, a skin patch test is recommended before use. Avoid ingredients that are known to trigger an allergic reaction and discontinue use immediately should a reaction occur.